Whitepapers
Shifting the lens: The Growing Importance of Life Cycle Impact Data in the Battery Material Supply Chain
By Robert Pell, Laurens Tijsseling, Phoebe Whattoff, Alex Grant, Jordan Lindsay, Carolina da Silva Paes
The route to global decarbonisation requires an unprecedented amount of raw materials to manufacture batteries, motors, magnets and other key components of electric equipment designed to replace fuel-combustion technology. A range of production routes for these key materials can carry significantly different embodied environmental impacts into batteries depending on how they are produced.
Download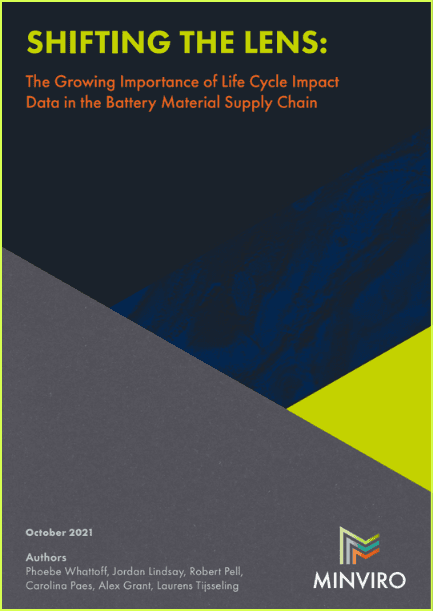 The outline
What you will gain from this paper
This white paper assesses the environmental impacts of different battery material production methods at the electric vehicle (EV) scale. As we transition to cleaner electricity, the environmental footprint of battery and EV manufacturing will decrease, but raw material production's impact will grow due to the challenges in decarbonization and use of lower-grade resources.

This specific white paper is focused on the different materials going into a battery pack, such as nickel, graphite, lithium, cobalt, manganese and aluminium.
Evolving battery chemistries and supply chains
There are numerous battery chemistries currently in use in EVs, and each has a distinct bill-of-materials. Battery development is a dynamic and fast-evolving sector with many new battery technologies developed in quick succession with new material requirements. In this white paper, climate change impacts for a high nickel content, nickel-manganese-cobalt (NMC) lithium-ion battery (NMC-811) are considered.
The trusted approach to measuring impacts across a range of categories
Using Life Cycle Assessment (LCA) helps businesses and researchers understand the full environmental impact of a product or process. Unlike more narrow methods, LCA examines various impact categories such as water use, air pollution, and carbon emissions. This broad view allows for more informed decisions and a comprehensive approach to sustainability.
The role of nickel and the range of impacts
The study shows varying levels of CO2 impact per kWh depending on the production methods for battery raw materials. The low-impact scenario emits 70 kg CO2 eq. per kWh, while the high-impact scenario goes up to 138 kg. The data reveals that the cathode component, especially nickel, is a critical factor affecting these emissions. Different methods of nickel extraction and electricity supply can significantly alter the environmental impact. This highlights the importance of choosing sustainable production routes for raw materials like nickel to reduce the overall carbon footprint of batteries.
The race for low impact batteries
Competition is heating up among battery makers to produce low-impact batteries. Companies like Northvolt aim to drastically cut CO2 emissions to 10 kg eq. per kWh by sourcing sustainable raw materials and improving manufacturing. The study shows that material choices in a single supply chain can significantly vary the environmental impact. Technologies are evolving to reduce these impacts, like selectively extracting lithium. Attention is also growing on the impacts of specific metals like nickel and cobalt. Graphite production presents an immediate area for impact reduction, especially by using low-impact electricity sources. Overall, the study underscores the value of Life Cycle Assessment (LCA) in identifying and reducing raw material impacts, especially as environmental regulations tighten.
download
Get access today
Fill in the form below
Download