Consultancy
Twin Metals Minnesota Project results
By Phoebe Whattoff
Twin Metals Minnesota is a US based company focused on the development of an underground copper, nickel, cobalt, platinum, palladium, gold and silver project (TMM Project) in the northeast Minnesota. After initial discussions we were tasked to provide a life cycle assessment study of their copper and nickel concentrate products for their future development and improvement.
Download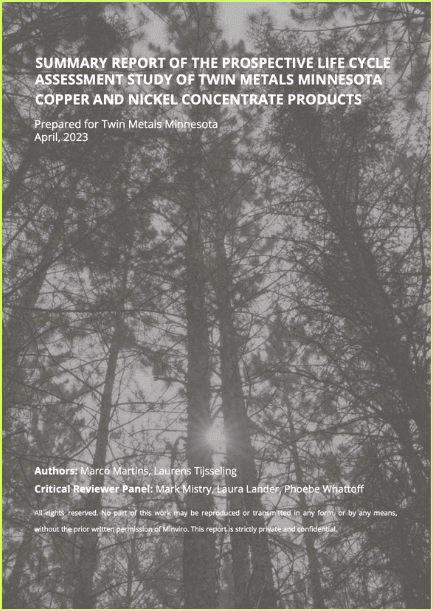 The outline
The report from Minviro
Considering their need for an LCA to optimize long term strategic planning, we set out the goal of the project to quantify environmental impacts associated with the TMM project copper and nickel concentrate products and compared against internally developed industry averages. This included looking at their underground mine and processing facility to concentrate copper and nickel bearing minerals, as well as site infrastructure for the plant and tailings storage.

LCA report focused on production and comparison.
Production & Comparison study
The LCA of producing one kilogram of copper and one kilogram of nickel in concentrate using conventional underground mining techniques and base metal flotation at the TMM project was evaluated. The comparison of nickel and copper concentrate products from the TMM project were compared against the global average life cycle impact of each product generated by the product system with the same functional unit and equivalent methodological considerations.
Carbon sensitivity in the value chain
The TMM project will co-produce copper, nickel and platinum group metals (PGMs) concentrates in the processing stage. Due to the production of co-products, the environmental impact is allocated between the primary products (copper and nickel concentrates) by mass of product and the co-products (PGMs) using economic allocation. Results, including insights to their impact made us conclude that there is significant potential for their products to be a good option for carbon-sensitivity in the value chain.
The value of the LCA
In their press release the Vice President, External Affairs and Project Operations, Dean DeBeltz noted the value of the LCA as "This life cycle assessment report reflects our commitment to the fight against climate change by both delivering the raw materials needed for our clean energy future and by using the most innovative technologies to reduce the impacts of our own operations".
download
Get access today
Fill in the form below
Download