Whitepapers
Sustainability by Design: A New 'Greenprint' for Battery and Battery Materials Manufacturing
By Robert Pell, David San Julián Alonso
In collaboration with Worley, this paper addresses the urgent demand for sustainable practices in battery and battery materials manufacturing. With global battery demand set to surge from 1 TWh to 6.8 TWh by 2030, environmentally conscious design and development are crucial. The EU's Battery Passport and similar regulations necessitate sustainability. Our white paper offers guidance on data-driven, environmentally informed approaches to meet these challenges.
Download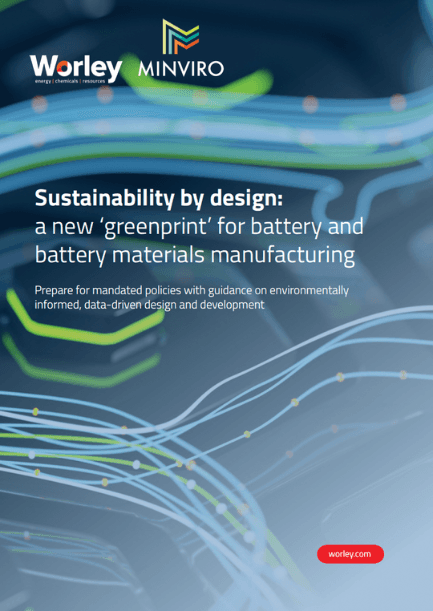 The outline
What you will gain from this report
This report provides a clear overview of the dynamic evolution of the battery landscape, fuelled by environmentally conscious consumers and regulatory policies. Explore the rapidly evolving battery landscape, driven by eco-conscious consumers and policies, in our white paper. Discover the crucial need for manufacturing efficiency and the integration of life cycle assessment during the design phase of projects, as well as insights into the EU's latest regulations and the concept of a 'Battery Passport.

This white paper is focused on batteries and battery materials.
Evolving Battery Landscape
The paper discusses the global increase in electric vehicle demand and its consequences for raw materials and sustainability.
EU Battery Regulations
Gain insights into the European Union's Battery Regulation, which emphasises sustainability, recycling, efficient battery usage, and compliance requirements. Understand its phased implementation and implications across various sectors, including the concept of a "Battery Passport".
Integrating LCA for Environmental Impact
Discover how Life Cycle Analysis (LCA) is integrated into project planning, enabling early identification of environmental hotspots and responsible decision-making in project development.
Battery Pack Impact
Gain insights into the environmental impact of battery packs through life cycle analysis and the potential for reduction through material and process choices.
download
Get access today
Fill in the form below
Download