Whitepapers
Sodium-Ion Batteries: A sustainable alternative to Lithium-Ion?
By Jordan Lindsay, Adriana Merino, Robert Pell, Phoebe Whattoff
In this white paper, we investigate the potential environmental impacts of sodium-ion batteries, which are causing a buzz in the commercial rechargeable battery market!
Download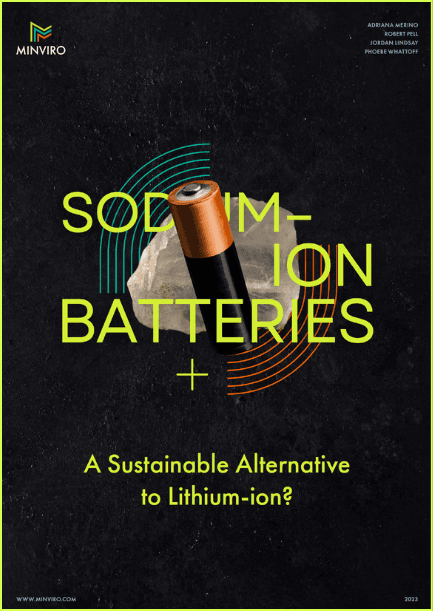 The outline
What you will gain from this paper
While early research suggests that sodium-ion batteries (SIBs) may be a sustainable alternative to lithium-ion batteries (LIBs) due to the abundant and cost-effective sources of sodium-containing materials used in their production, it is still unclear which battery type and chemistry are the most suitable and sustainable for their respective applications. With lithium-ion batteries featuring so prominently in discussions regarding decarbonisation, the lens is shifting to supply chain impacts as EU sustainability regulations come into play in the sector.

This specific white paper is focused on sodium-ion vs lithium-ion as a key battery material.
The growth of sodium-ion batteries
Sodium-ion batteries (SIBs) have gained interest in the commercial market owing to the fact that they contain materials with high crustal abundance. This is particularly pressing as risks increase to access to critical materials like lithium, nickel, and cobalt.
Comparing the Performance of Sodium-ion vs Lithium-ion
When considering the electrochemical properties of batteries, LIBs with high nickel content such as nickel manganese cobalt (NMC) have the highest energy density values ranging from 200-300 Wh/kg, compared to 90-150 Wh/kg for lithium iron phosphate (LFP), a second popular cathode chemistry.
The importance of the embodied impacts of precursors
When considering climate change impacts of LIBs using LCA, investigating the upstream embodied impact of anode precursor materials such as natural and synthetic anode grade graphite powder is critical due to their energy-intensive production processes. The same approach should be applied to SIBs to address possible environmental hotspots of potential LIB replacements.
Considering the use phase
The climate change impact values of SIBs can look very different when you take into considering the use phase. Low capacity cells with high cycle lives may compare more favourably to high capacity cells with low cycle lives in terms of environmental performance. This is an important consideration for the study.
download
Get access today
Fill in the form below
Download