Whitepapers
The Climate Impact of LFP Battery Materials: Balancing Environmental Concerns with Financial Realities
By Jordan Lindsay, Jessie Briggs, Ed Rackley, Rosie Madge
In our new collaborative white paper, Minviro and Exawatt have combined their expertise to study the future landscape of global LFP production from an environmental sustainability (using life cycle assessment, LCA) and cost perspective, respectively, as an indication of the true potential of non-nickel-based cathodes as a globally competitive commercialised product. To create the scenario changes to test the environmental impacts and financial costs of different pathways, all LFP LCA and cost model inputs were kept static except manufacturing electricity source, lithium carbonate source, and graphite source. The comparative environmental impacts, in this paper as they relate to decarbonisation potential, and financial costs of the different scenarios theorised from these three interventions are then discussed in detail.
Download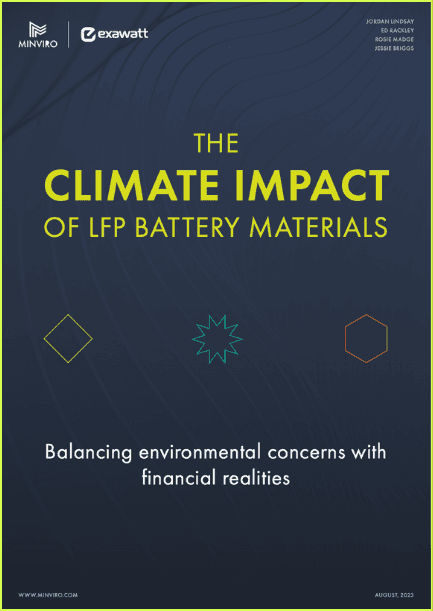 The outline
What you will gain from this paper
The evidence-led and practical insights provided by Minviro and Exawatt in this paper are designed to assess the relationship between the cost of production and the climate change impacts of LFP production. The paper explores regional differences in both aspects and explores the contributions from the raw materials and the manufacturing stages.

This specific white paper is focused on LFP battery production and associated material such as lithium and graphite.
The growing importance of LCA data alongside economics
The upstream and downstream value chain is more intertwined than ever, and investors and permitting bodies now must consider project and product environmental impacts alongside financial sensitivity to be commercially viable. This is important as novel chemistries and new production routes move towards operation.
Exploring scenarios for battery materials and manufacturing locations
The LCA and price models were constructed using Minviro and Exawatt internal methodologies, respectively, and represent the highest data quality available for generic LFP battery cells constructed into a pack of 70 kWh nominal capacity suitable for use in an electric car. The production year is assumed to be 2022, with prices reflective of this assumption, and 2022-2023 raw material life cycle impact data was used for the environmental impact quantification for different regions.
Different levers for LFP impact and cost reduction
The decarbonisation and financial impacts of scenario changes relating to (i) the source of manufacturing energy mix, (ii) the source of lithium carbonate for use in the cathode and (iii) the source of the anode-grade graphite powder for use in the anode were calculated and modelled for a total of 27 potential LFP battery production pathways. Switching the energy grid mix between fossil-fuel-dominant (in China) to partially renewable (in the United States) to fully renewable (in Norway) results in a steady decrease in climate change potential impact. The lower impact production routes of graphite and lithium also had a significant impact.
download
Get access today
Fill in the form below
Download