Whitepapers
Climate impact of graphite production
By Phoebe Whattoff, Jordan Lindsay, Robert Pell
Published LCA studies for graphite production do not sufficiently represent the sizable contribution of different electricity scenarios to the overall impact of operations. As the global demand for battery grade material rises, this merits careful reconsideration. This LCA study suggests that the true climate change impact of producing battery-grade graphite can be as much as ten times higher than published values, depending on the energy and material inputs.
Download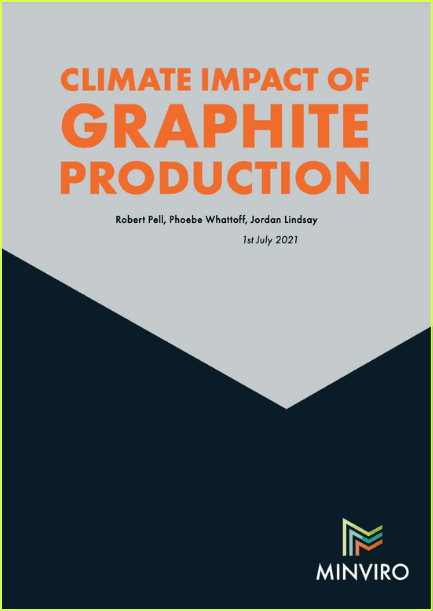 The outline
What you will gain from this paper
Producing anode-grade graphite for lithium-ion batteries is energy intensive and has many processes located in low-cost energy regions like Inner Mongolia, where coal dominates, leading to high climate impact. Learn how life Cycle Assessment (LCA) can be used to measure the environmental effects of products or services, pinpointing areas for impact mitigation.

This specific white paper is focused on graphite.
The forgotten material of the battery revolution
Constituent materials, like graphite, in LIBs have ranging environmental impacts depending on the resource type that they are sourced from, the technology used in the production route, energy and material inputs including water consumption, electricity grid mix, as well as the reagents and chemicals used in production.
Natural, synthetic or a combination of both graphite types for anodes
Natural and synthetic graphite can have different performance characteristics in the anode, but is an ever-present in most commercial batteries due to it meeting the voltage requirements of most common Li-ion cathodes, its relative affordability, and extremely light, porous and durable physical properties.
The climate impact of graphite production is often underestimated
Commercial databases for the carbon intensity of graphite products and projects are significantly underestimated in previous LCA databases due to poor data quality, conservative energy contributions or omitting upstream scope 3 emissions (i.e., embodied impact of consumables), and non regionalised data.
The importance of low impact graphite as demand grows
With graphite demand increasing, new projects and production routes will be developed for both natural and synthetic anode grade graphite. It is critical that life cycle assessment is applied at the development stage of these projects to ensure that all impact mitigation opportunities are explored.
download
Get access today
Fill in the form below
Download